Partnerships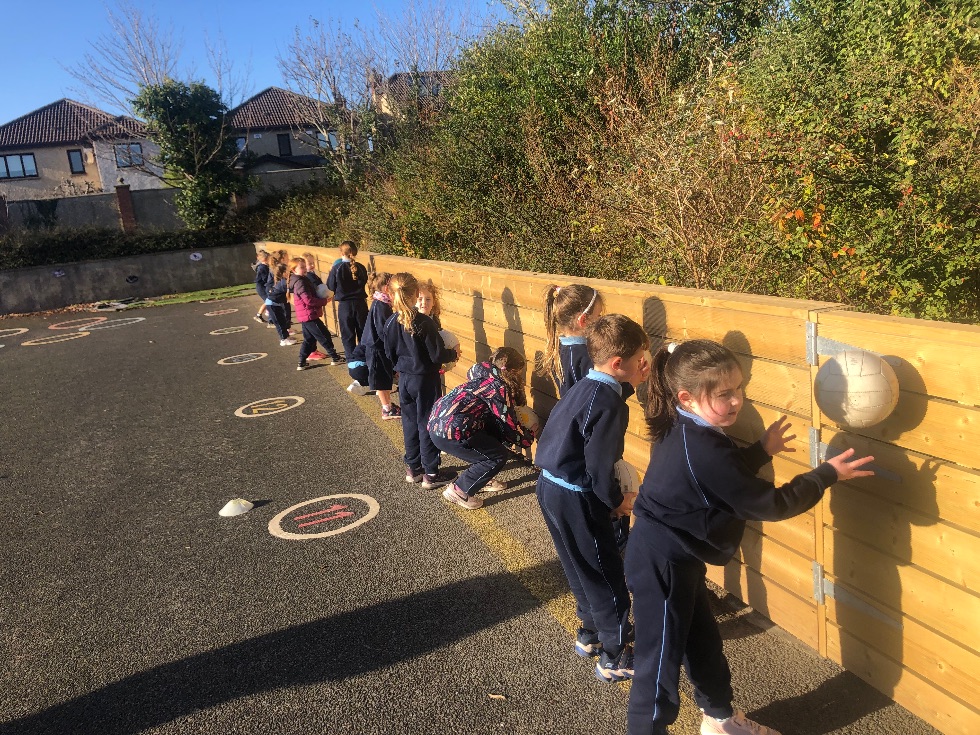 Active School Committee
Meet our 2022/2023 Active School Committee! There is one child chosen from every class to be part of the committee.
Role of the Active School Committee:
Attend ASF meetings

Encourage people in their class to be active

Share announcements on the school intercom

Keep the P.E equipment tidied and organised
GAA
Here in St. Helens J.N.S we have always had a strong relationship with our local G.A.A club Naomh Mearnóg. Naomh Mearnóg's Games Promotion Officer (GPO) is Ronan who began his role in 2019. Ronan is taking a short break at the minute but we are delighted to have Ciara in with us twice a week to coach all of the classes in our school. Ronan and Ciara provide GAA training to each class which the children really enjoy and look forward to.
In October 2022, the Naomh Mearnóg hurling team won the Dublin Intermediate Hurling Championship final replay against St. Sylvesters. Shane Kavanagh who is a player on the winning team came into the school to visit all of the children in St. Helen's J.N.S. with the cup! Shane took his time to answer questions and have a chat to the pupils about the importance of getting exercise and eating healthy.
Wall of Achievement
We are so proud of all of the children in our school and their sporting achievements. We have created a "Wall of Achievement" to celebrate children taking part in sports outside of the school. All children are invited to bring in pictures of them participating in a sport. These pictures are put on the "Wall of Achievement" to celebrate and encourage others to engage in sport.
Active School Slogan
A very big well done to all pupils who took part in our slogan and colouring competition. We want our school to have it's own slogan which encourages and reminds children and staff to be active throughout the day. Our Active School Committee decided that it would be a great idea for children in Junior and Senior Infants to complete a colouring competition while 1st and 2nd classes created their own slogan. The Active School Committee decided that our school slogan is going to be "We'll walk, we'll jump and we'll run, being active is really fun!!".
What Clubs Are You In?
Our school has taken part in a survey to get an insight into what clubs the children take part in. Each class completed the survey and the results were very interesting! Children in St. Helens JNS participate in the following clubs: Swimming, Gaeilc football, Tennis, Hurling, Soccer, Dancing, Gymnastics, Basketball, Athletics and Taekwondo!
St. Helen's Junior National School, Limetree Avenue, Portmarnock. Co. Dublin | Phone: 018461763