Physical Activity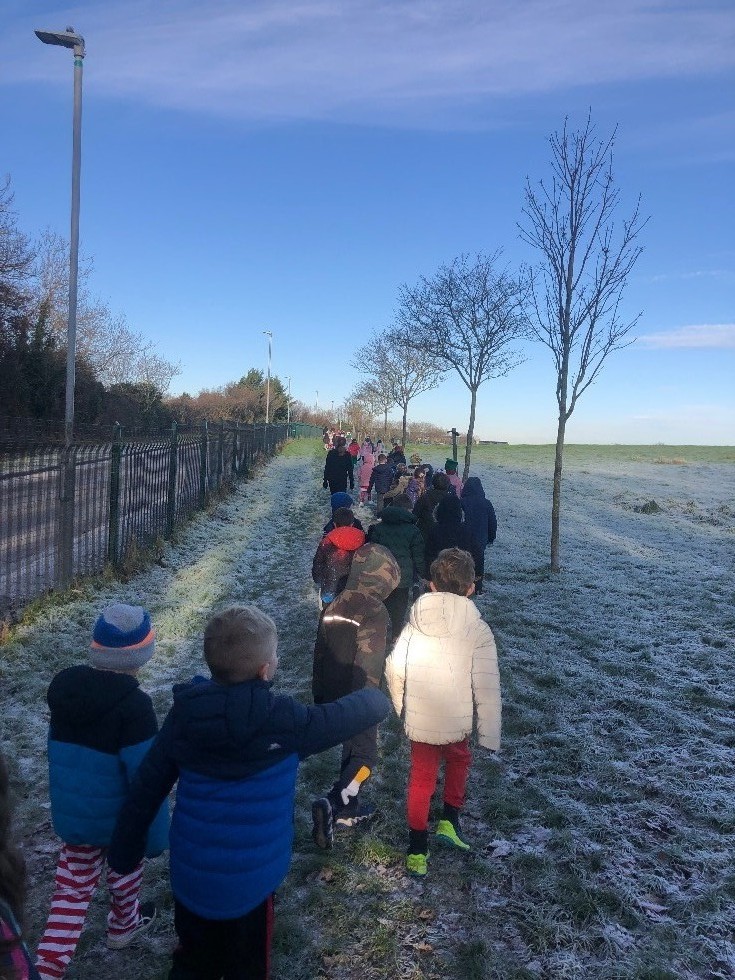 Senior infants active break!
Senior Infants active break!
Senior Infants active break!
Physical Activity
Here in St. Helen's JNS we are very fortunate to have two yards. Children from the Cabhair Centre are joined by children from Junior Infants up to Second Class to play, run, skip and jump around the yards. The children are really enjoying using the playground equipment during yard time and love moving to the music on a Friday!
Playground Equipment
Our Active Flag team of teachers created an active yard space in the Junior and Senior yard where classes can use playground equipment such as bean bags, hula hoops and skipping ropes if they wish. Our playground leaders from 2nd class work hard each day to bring out the equipment, set it up, ensure that the equipment is being used correctly and that it is cleaned up and organised to use for the next yard.
Music On Yard
Our school has introduced music on both of our yards every Friday. All children and staff absolutely love the music and it boosts everyone's Friday spirits even more! It's great to see the singing and dancing skills from everyone in the school community. Please see the links below to have a look at some of the dancing!!
Playground Leaders
The playground leaders have been doing an amazing job setting up and looking after the active yard equipment. One class from second class is chosen each month to be the class of playground leaders. The class teacher picks a few children each day to have a turn. The children love wearing the Active School wear so that everyone knows that they are the ones in charge of organising the play equipment.
12 Days of Fitness
Before the Christmas holidays, our school completed the 12 Days of Fitness challenge. After yard, all children followed Mr Shevlin, Mr Jennings, Ms Rooney and Ms Walsh as they completed 12 different moves to the song "12 Days of Fitness". It went down a treat with all children and staff. It was a great way of getting everyone in St Helens JNS into the Christmas spirit.
Junior Yard 12 Days of Fitness
Senior Yard 12 Days of Fitness
Active Break Challenge
Our school has completed the 4 week Active Break Challenge!! Every class committed to doing at least one movement break every day which began on the 30th of January. This challenge took place over a period of 4 weeks. Every class had a record sheet outside of their classroom. The Active flag committee made sure to tick the box to show that their class had completed a daily movement break. Active breaks help us to stay healthy, concentrate & focus and have fun! The active breaks included dance, running, walking and exercise. The whole school community very much enjoyed the process and were over the moon that they completed the challenge. Maith sibh gach duine!!
Walkway
A very big thank you to Gerry who helped us create our Active School Walkway! The Walkway can be used to promote learning on the move, support the PE curriculum and energise the school day. All classes have access to the Walkway throughout the day. Classes have been using the Walkway for their Maths hunts & movement breaks.
Running Challenge
At the end of February, our school began the Run Around Ireland Challenge. This challenge was extremely exciting and the children loved to see how far their whole class had ran. Every day, each class ran laps around the yard. The laps were added up and teachers would calculate how many kilometers their class had ran. We had classes who ran to The Rock of Cashel, Kilkenny Castle and Newgrange to name a few!! The whole school were delighted to finish ANOTHER challenge and we are so proud of everyone who took part!
Ms O'Callaghans class Run around Ireland
34be6c03 3d3c 4cfa 9b1d 4bf1a4655cde
Mr. Jennings' Class Active Break - Classroom HIIT (2)
Mr. Jennings' Class Active break - Classroom HIIT
Ms Walsh's class active break
Junior Infants active yard
The School is not responsible for the content of external Internet sites. We recommend adult supervision for all links to external sites.
St. Helen's Junior National School, Limetree Avenue, Portmarnock. Co. Dublin | Phone: 018461763